Mazinaw - Kishkebus
The full route is 21 km long and includes a couple of carry-overs and one long portage of 1.5 KM (all well marked - see the map icons). The portage is in good condition but uneven and at times hilly, which could be a challenge for persons not in good physical condition.
The canoe route takes you past the pictographs on Bon Echo rock. Kishkebus itself does not allow motors, making it truly a wilderness area.
For a shorter trip, persuade a friend to drop you and your canoe off at the furthest north point (located at the Alpine Club site) or the lower end of Mazinaw at the carry-over into Shabomeka Lake where you would canoe only the inner lakes. A pick-up by same friend might be required after.
Vehicle access points for the full route are the lagoon in Bon Echo Park or Tapping's Landing. If you don't own a canoe, the park has a rental concession in the lagoon.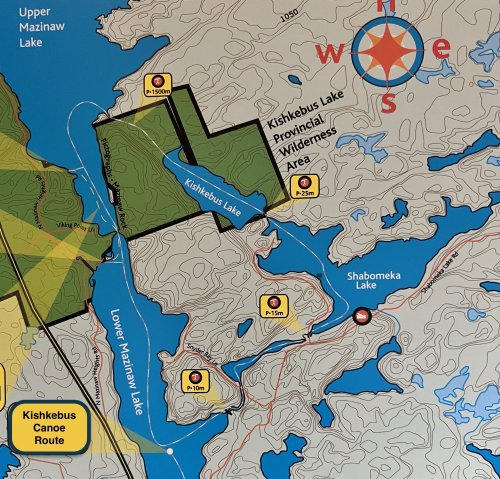 Mazinaw - Marble Lake
An easy paddle from the south end of Mazinaw Lake via the Mississippi River to Marble Lake (yes, you will see marble). Depending on water levels (time of year) you many need to walk beside your canoe and possibly carry-over some rocks. Water shoes advised! There are several spots to stop for a picnic, and if you decide to canoe into Marble Lake Lodge at the bottom of the lake, they have excellent onion rings.
This route is the beginning of a much longer route down the Mississippi River which connects to Kashwakamak, Crotch and Big Gull Lakes.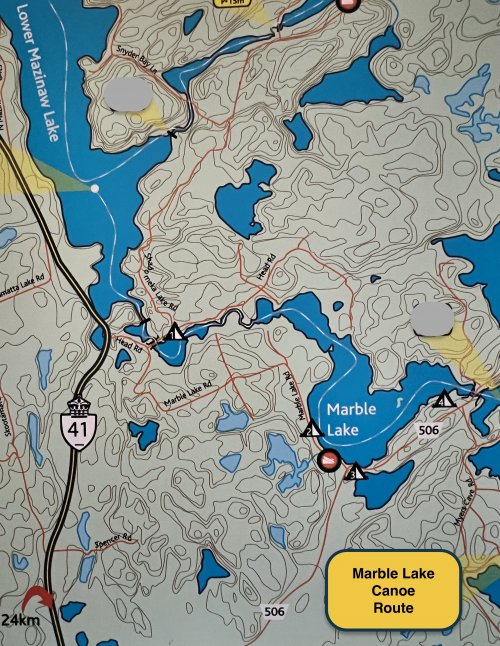 Mazinaw - Mackavoy
An easy paddle from Brown's Camp at the north end of Upper Mazinaw via the Mississippi River to Mackavoy. If you are arriving by vehicle, use the public boat launch on Mackavoy Lake (18803 Hwy #41) which is near the headwaters of the Mississippi River. This is a very sheltered route that usually has little wind. The rivers winds its way past beaver houses and picturesque rock cliffs. Along with beaver houses there are dams. Note that during periods of low water, the dams can be difficult to get over.
The river is also known for good fishing (bass and pike).